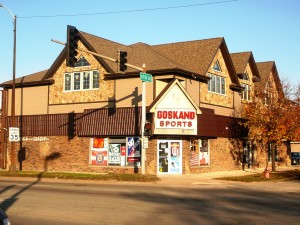 GOSKAND INTERNATIONAL SKI & SOCCER CO.INC.
If anyone were to ask what has been the secret to the long lasting success of  Goskand Ski Shop, the answer would be "a family mentality". 
In 1994, GOSKAND Ski Shop was born out of the dreams and inspirations of Andrew and his wife Margaret, to turn their beloved sport of skiing into a profession.
GOSKAND attempts to extend this love of outdoor sports to its customers and to welcome them into the family atmosphere shared by these sports enthusiasts. 
We offer everything from ski rentals and ski tuning, to high-end ski clothing and performance skis and boots for sale. 
GOSKAND INC. is a proud retailer of Spyder ski apparel for men, women, and kids. www.spyder.com We carry a full array of Spyder ski jackets, ski pants, ski sweaters, and more for men, women, boys and girls.
"We believe that skiing is an instinct. The fusion of a predator's psyche and an artist's rhythm. Where the mythical meets the physical. A sense from the very beginning that down is fun, and down fast is addictive. This instinct pushes us to the edge of control, and beckons us to white and cold, powder and ice, to find a line and attack it with strength and style. It is this instinct that makes us love the smell of melted wax and burning P-tex, first tracks, local legends, and global icons. It is an instinct both difficult to control and impossible to contain, and it's at the heart of everything Spyder creates."
To sell the best sports equipment, clothing and accessories at competitive prices and offer the best service during and after each sale… Achieve total customer satisfaction… Treat our customers, as we would like to be treated… Act continuously with dignity, trust and integrity… Solicit and encourage employee involvement in all aspects of our business… To achieve a pride in being and a strong will to remain the best at what we do… Instill responsibility for customer satisfaction within each employee.
We carry everything from ski & snowboard jackets, pants, beanies, hats, face-masks, hoodies, , gloves, base layers (tops & bottoms), socks, boots, bindings, goggle, sunglasses, belts and more; like poles, helmets and any/all hard & softs goods for ski, snowboard, snowshoeing and mountain boarding. You can always call us to ask questions, but we suggest you stop by the shop to check out our extensive selection of the hottest gear at the best prices.
SKI
We only carry the best skis and ski equipment. From twin tip skis to downhill skis, we got it all.  Let our in house pros help you get fitted and find the best ski equipment for your skill level, style and progression. You will find the best brands of skis, ski goggles, jackets, pants, gloves, poles, bindings and boots at the shop.  Our selection is hot!  You will find the season's freshest gear and late models with something to match every price point.
SNOWBOARD
We have the latest and greatest snowboard technology, gear and equipment from all the top brands in the industry.  Our in-house experts will make sure you find what you are looking for based on your riding style, skill level and price point.  We carry it all, from snowboards, boots, bindings, goggles, pants, jackets, safety equipment and clothing.  Stop by the shop and check out our inventory.  We have the latest and greatest snowboard technology at the best prices in Chicago.
We know that sometimes renting is easier. Perhaps this is your first time, maybe you only go once and awhile or you want to make sure you love the sport before you decide to buy your own gear. So we decided to make it easy for you! Goskand ski rentals; we carry the best rental equipment in Chicago. You can rent kids' skis & snowboards. We will help you get fitted for the best gear so that you can make the most out of your day. Speak with our in house experts to make the best choice. Whether you are a beginner or a seasoned pro, we got you covered.
KIDS
When kids first start learning to ride it is important that they are fitted with comfortable and safe equipment. Learning or just beginning to ski/snowboard is challenging enough; therefore being comfortable is going to make your little guy or girl's day much better. Plus, there is a lot of falling when you are learning ride, so it is important that your kids are properly fitted and have proper safety equipment. We make it easy for you to get fitted in the shop and gather your gear before hitting the slopes; because renting at the slope is hectic when you already have your hands full. We also have kids ski jackets, gloves, helmets and more for purchase at the shop.
Clients Reviews
I almost didn't want to let the secret of Goskand out, but I couldn't agree more with Kris.
This place is awesome. You can't miss it on Harlem, the giant sign with skiers on it let's everyone know what Goskand is about. They have an amazing supply of skiing and snowboarding equipment. The Polish gentleman who runs it answers the door (you have to rung a buzzer due to the $$ equipment inside), and if you're buying soccer equipment, he's your new best friend. Goskand carries a great array of Chicago Fire gear as well. I couldn't afford a licensed jersey, and few places offer more than lousy Fire t-shirts. Goskand had awesome non-licensed jerseys for less than $30. I couldn't believe it; I almost bought two. They also have a full stock of international scarves for your favorite footy team, as well as select jerseys for European teams. Goskand is only about three quarters of a mile south of the Harlem exit from I55, or a short bus ride on the CTA 62 bus.
Al D. Berwyn, IL
I have been here a few times always a pleasure to come great prices family owned. I only go for the Futbol jerseys bought a few in the past years for me and my dad but looks like a great ski store also i am going to buy my winter coat here this winter ! Świetnie !!!
Jesus D. The Loop, Chicago, IL
Midway is soooo lucky to have such a wonderful sporting goods store!! Owned by the sweetest Polish man in town! Goskand is WELL known for their ample supply of skiing/snowboarding, which is their main attraction BUT they have everything else you can think of….They've been supplying me throughout the years with all my new sporting endeavours…volleyball, softball, snowbarding, and basketball!
GossipGirl l. Chicago, IL